I have compiled the most effective hair care tricks that will help you show off your hair all year long.
We all would like to have perfect hair, but in most cases there is always something that fails us; the hair is frizzy, the ends open very easily, the hair dries out quickly, our hair gets dirty quickly, we have damaged hair, we lack volume, it lacks shine … By popular vote among my clients, the tricks that you will find below are the best tricks to take care of your hair so you can solve the problem that brings you head (and never better said). Welcome!
1. Choose a good shampoo
Yes, I always repeat the same thing, but choosing the right shampoo and conditioner is the most important thing for healthy hair. Wash your hair every other day, especially if you do sports and sweat. Just as bad is washing it every day, that very little.
2. Take your time
Don't be in a hurry to rinse off the mask, leave it for a minimum of 15 minutes and, if you can, wrap your head with a hot wet towel to multiply its effect. If you don't have time, apply a good conditioner.
3. Don't rub
We still have the feeling that the more we rub our hair, the cleaner it will be and the longer it will last. Big mistake! It is precisely the opposite, if we wash the hair with a gentle massage we will avoid activating the sebaceous glands and you will be able to lengthen the washes. Also, aggressive combing or brushing can damage roots of hair follicles and permanently stop its growth!
4. Add volume to hair without making it dirty
We all know that to get the volume we need to apply a lot of product, that makes it very dirty. Take a cotton towel, and once you have finished drying, stick it to the scalp and give 360º turns. Two on the right and two on the left. This is how you get a light and very effective crepe. Now all you have to do is put a little serum or hairspray on your hair and that's it. I recommend the best serum, check out this Streax hair serum review!
5. Always untangle with your hands
For good hair care it is essential to keep the hair cuticle well sealed. Work with your hands when de-tangling your hair with the conditioner or mask. With this trick you get more shine, smoother, less breakage and much more control if you have it frizzy.
6. The always ionic dryer
The ionic dryer is a must-have hair care tool. This technology breaks down the water molecules in damp hair, turning them into micro-particles that hydrate the scalp and hair fiber. Get ready to enjoy the best treatment there is. You will dry it faster, your hair will be shinier, healthier, more manageable, much more hydrated. It also has a bactericidal effect.
7. Repair hair overnight
There are treatments that in just one application a week restore vitality, shine and flexibility. Its results are maintained for 5 washes. Some examples are the Night Cap by Living Proof (ideal for dull hair)
8. If you have a sensitive scalp
If you have a sensitive scalp, you should avoid shampoos with detergent, paraben, sulfates or silicon, as well as calcareous water (for this there are already taps that reduce the excess of lime in the water). Also, avoid very hot water as well as applying direct heat to the scalp. With these simple guidelines you will get better in a few days.
9. Does your head itch after dyeing?
Sugar is the best ally if you have itching after dyeing. As simple as applying a spoonful of coffee full of sugar in the bowl where you have prepared the dye. The itching and discomfort are over.
10. The "all in one" do work
Of the best hair products, the two-in-one shampoo and conditioner takes the highest marks. It is important that this product does not contain detergent. You will be surprised what it is capable of doing in just one wash.
11. How to prevent hair from splitting
To avoid splitting your hair, you should stop combing it when wet. Dry your hair without first de-tangling it. Always direct it towards the ground and help yourself with your hands. When you have finished drying your hair, it will be completely de-tangled and without having to force it with combs or brushes.
12. Satin pillows for hair care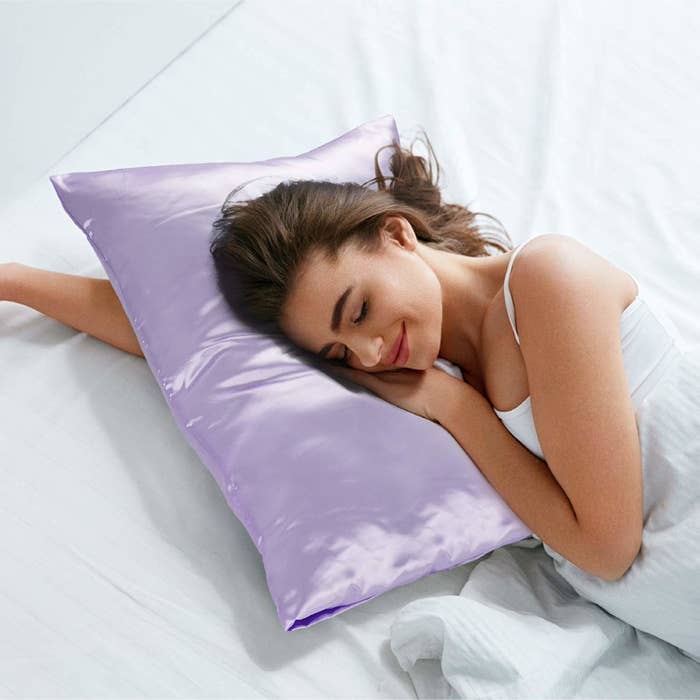 If you wake up in the morning with frizzy hair or reddened and irritated skin, here is the solution: change your pillowcases for satin ones. If you use satin pillows, your hair will get tangled less. In addition, with this material you will wake up with your hair done every morning. I already have mine!
13. Close split ends in a matter of seconds
Do you know the Fresh Cut from Living Proof? It's a lightweight lotion that instantly closes split ends (like a zipper) to keep hair healthy and looking and feeling freshly cut. When we apply it to the tips, capsules with positive ionic charge are introduced that bind to these damaged areas. Try it and you will be amazed at the change!
14. Change shampoo according to the season
Choosing the shampoo and conditioner depending on the time of year and the state of your hair is essential. And it is that each time of the year needs different care. From the age of 40 choose an anti-aging line as these lines, nourish and restore the shine of youth, also softening dry, brittle or aged hair. Among its components are the baobab extract, the lotus flower and up to 20 different amino acids with an antioxidant power for the scalp.
15. Gray hair
One of the most obvious indicators of hair aging is gray hair. They appear because the melanocytes that are responsible for manufacturing the pigment for our hair reduce their activity and, little by little, the hair ends up being completely white. If you want to cover them up, use an ammonia-free, fragrance-free, nickel-free and vegan ingredient color that rejuvenates and cares for your hair.
16. Defend your hair from the heat
On a daily basis, our hair is exposed to sources of heat from irons, dryers, tongs, curlers…. This is one of the reasons why hair ages prematurely. I have discovered HEATED DEFENSE, the first light and invisible foam that protects hair from damage caused by heat, ensuring extreme protection against temperatures of up to 232ºC. It has been my favorite choice for hair protection and I really recommend you to try it!
Amazing!
Thank You for reading through all these tips! If you have any questions, or any tips and tricks for good hair care too, do tell me in the comments below!