Disadvantages of Over Workout: Over-exercising can have an adverse effect on your body. Instead of achieving fitness goals, over-exercising might give birth to some health issues. The most common health issues that may arise with over workout are loss of appetite, pain in muscles, stomach aches, and even dehydration also. So, if your body is showing you some of these symptoms then you need to get conscious and must give your body some rest.
Along with that, there are several disadvantages of over workout in the gym which I will be discussing in today's blog.
Decreased energy level
If you start feeling tired in the gym and feel soreness and pain in several areas of your body, that means your body is exhausted due to overexertion, and recovery is the only solution to this problem. In order to avoid these side effects of excessive workouts, you must learn to pace yourself at the gym. But if you are feeling like a loss of energy and you want to boost your energy level there is some advice for keeping your energy level up even after hours of training.
Drink plenty of water, about half of the gallon each day.
Eat healthy meals before and after your exercise session.
Get plenty of sleep.
Disadvantages of Over Workout: Insomnia due to over-workout
Over-exercising can cause insomnia and several other symptoms. Working out itself leads to fatigue and stress on the body which may cause insomnia if you're not careful about it. Sometimes, you perform exercise that requires you to stay up all night due to a workout in the gym. So, in order to prevent yourself from sleep deprivation caused due to over-activity in the gym, make sure that you are not exceeding your body's needs or normal activity levels.
Muscle inflammation caused due to over workouts in the gym
Most beginners make the common mistake of treating their body as a machine and thereby engaging every muscle of their body while exercising at the gym. They don't give their muscles much time to recover. Muscle soreness can be caused due to various reasons and can lead to mild to chronic pain. So, it has been suggested to start with a low-intensity exercise in order to warm up your body and also to avoid any type of injury.
Besides that, if you are also planning to incorporate some exercise into your routine, you need to invest in high-quality comfortable gym outfits in order to make your workout session more productive.
Common symptoms of muscle pain
Muscle cramps
Pain in the joints and muscles
Swelling in the affected area of the body
Tingling sensation in the affected part of your body
Numbness in the affected area of your body
If you are a beginner in the gym, then make sure to consult with your personal trainer or physician first because they will advise you on which type of exercise is best suitable for you, if you are suffering from any underlying disorder. Also, try to do the exercise in the right form, for the prevention of various injuries.
Heart problem due to over-workout
Yes! It's true that overwork in the gym leads to heart problems in individuals with weak hearts. It can also cause high blood pressure, abnormal heart rate, stroke, heart attack, and sudden cardiac death for those people who are already suffering from heart disease.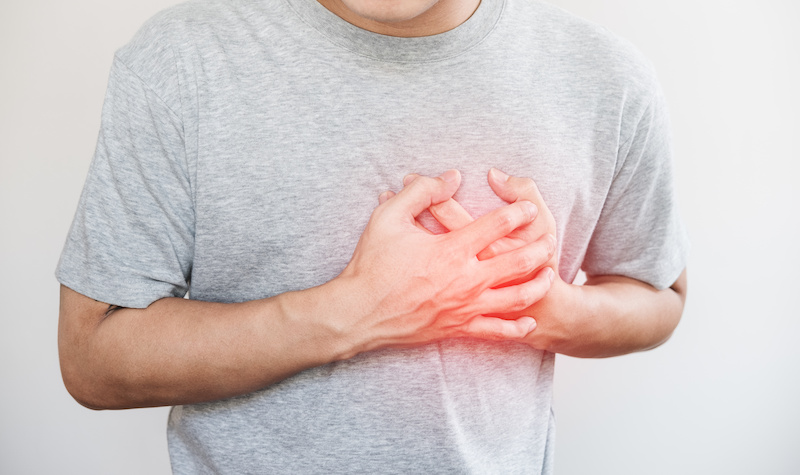 One of the Swedish studies revealed that people who perform endurance workouts at least three times a week have a high chance of developing irregular heartbeats when they start getting older.
So, low-impact workouts such as jogging, walking, swimming, and yoga are suggested for individuals who are already suffering from heart disease.
Missed periods due to over-exercising in the gym
Not all women will suffer missed periods when they start exercising. This depends on several factors, such as the intensity of the exercise, age, and body weight. How needle therapy can magically cure your muscle pain.
Every woman wants to look sexier and wants to have a toned body. They usually start dieting and exercising soon after they finish their duration of pregnancy. They also try every possible method in an attempt to lose weight after childbirth, not realizing that excessive workouts can have serious health risks such as missed periods due to over-exercising in the fitness center.
Along with that exercises such as weightlifting and running can enhance the level of testosterone in your body (the hormone which is responsible for regulating the menstrual cycle). In such cases, it can lead to irregular or sometimes extended menstrual cycles. So, you must consult a doctor if you notice a change in your cycle.
Also, if you have indulged yourself in exercise and want to make your exercise session highly convenient and comfortable you need to wear a sweat-absorbing and lightweight gym outfit. Because if your exercise clothes are easy going you will get the maximum out of your workout session.
Joint problem due to overexertion in the gym
Over-exercising in the gym can cause joint problems if performed two to three times a week. Over-exercising which is associated with weight lifting triggers large muscle groups, besides causing muscle damage, muscle tear, and soreness, leading to a reaction in connective tissues like tendons and ligaments, which build up scar tissue. This can ultimately cause pain and stiffness in the affected area. What is Pancha Bhoota, and how these 5 elements are interrelated to our health.
Also, over-exercising can lead to various musculoskeletal disorders that take a huge toll on your physical as well as emotional health. Besides that, you must be aware of the fact that joint pain and muscle soreness are not the same, which you may experience during exercise. So you need to know the difference between both of them.
Disadvantages of Over Workout: A changed color of urine
Urine normally has a light yellow color. However, if you have been in the gym for hours and your body is dehydrated, you might observe that your urine will look darker than normal. This happens due to dehydration which makes the urine more concentrated due to the loss of water in the body. Also, the other reason why over-exercising in gyms causes changes in urine color is that this can be attributed to the breakdown of red blood cells during strenuous exercise causing the pigmentation of your urine to get darker.
How to stop yourself from overworking in the gym?
Why do you over-train? mainly there are two reasons: not getting enough rest and too much stress. So for your muscle recovery, you need to take a break from your training sessions, otherwise, your body will stop adapting to the workouts. When all this happens, gains in strength and muscle size stop as well. Similarly, if you continue training with the same intensity, you will eventually burn out or can get yourself injured.