Low-Carb Sweets: Living with diabetes requires you to balance various aspects of life. One of the most challenging things in such a case is managing sugar intake. Sugary sweets are tempting. However, if an individual with diabetes consumes too much sweets or sugar, it can impact the blood sugar levels. The problem can intensify so much that it can often lead to serious health complications.
The good news is that there are delicious low-carb sweet alternatives that not only satisfy your cravings but also support your health. Diabetic people can easily munch on these sweet treats and keep their blood sugar levels in check simultaneously.
Here, we will discuss low-carb sweet options for all the health freaks and diabetic people.
Low-Carb Sweets: A] Things To Keep In Mind While Indulging In Sweet Treats
Before checking out some flavorful desserts, let's take a look at a few guidelines that diabetic people should follow while satisfying their sweet tooth.
1. Trade Carbohydrates
Most people like to indulge in flavorful delights after their dinner. So, if you often develop a sweet tooth past your dinner time, it's best to skip the carbohydrates from your meal. Giving up on consuming carbs during the night time can help you keep your carb intake in check.
Consuming less carbohydrates will allow you to keep your blood sugar levels steady. Moreover, it will also make it simple for your diabetes medication to act thoroughly.
2. Lessen The Servings
If you're struggling with diabetes, you must pay attention to the carb servings in your meals. As per the recommendation of the American Diabetes Association, it is best to keep the serving size between 40-60 grams per meal.
So, if you are looking to savour some sweet treats after your meal, slash the number of carbs.
3. Don't Always Rely On Artificial Sweeteners
Artificial sweeteners are the new norm for diabetic people. But these sweeteners might not be the best choice. Undoubtedly, they contain less calories and carbohydrates. But they are sweeter than sugar in most cases.
Consuming them often will only take your sugar cravings to an all-time high. In such cases, your blood sugar level might spike and bring with it inevitable health complications.
Low-Carb Sweets: B] Diabetic-Friendly Sweet Treats
Keeping the above guidelines in mind will help you stay healthy while struggling with diabetes. You can easily consume the below-mentioned low-carb diabetic-friendly sweets as long as you are wary of the side effects that come with their excess consumption.
1. Fruits
Fruits are the best sweet treats. They not only satisfy your craving but also nourish your body with the required vitamins and minerals. Also, fruits are rich in fibre. Fibre is the most important nutrient for your body, especially when you are struggling with diabetes. It regulates your blood sugar and is also effective in lowering your cholesterol levels.
To enjoy fruits as a sweet delicacy, you can pair them with simple or Greek yoghurt. If you want to lower your sugar and carb intake even more, you can get yoghurt that is low in sugar.
Alternatively, you can also try a delicious fruit salad. Here are 6 essential tips for a healthy lifestyle.
2. Dark Chocolate
Who doesn't love chocolate when it comes to indulging in something sweet? If you love chocolates but worry that consuming them will shoot up your blood sugar levels, we have some good news for you! These days the market is loaded with sugar-free dark chocolates.
Consuming sugar-free dark chocolates can be your go-to option when controlling your carb intake. Apart from tasting delicious, these chocolates also keep your insulin levels in check. But remember to opt for only sugar-free ones because many brands manufacture chocolates with loads of added sugars.
3. Frozen Yogurts
Instead of opting for frozen desserts like ice creams, you can consume frozen yoghurt. Ice creams are high in sugar and consuming them would not be the best choice for people with diabetes.
Opting for frozen yoghurt is still a better alternative. Yoghurt has a lower fat content and a high nutritional value. It serves your body with essential minerals while you enjoy something flavorful.
Low-Carb Sweets: 4. Berries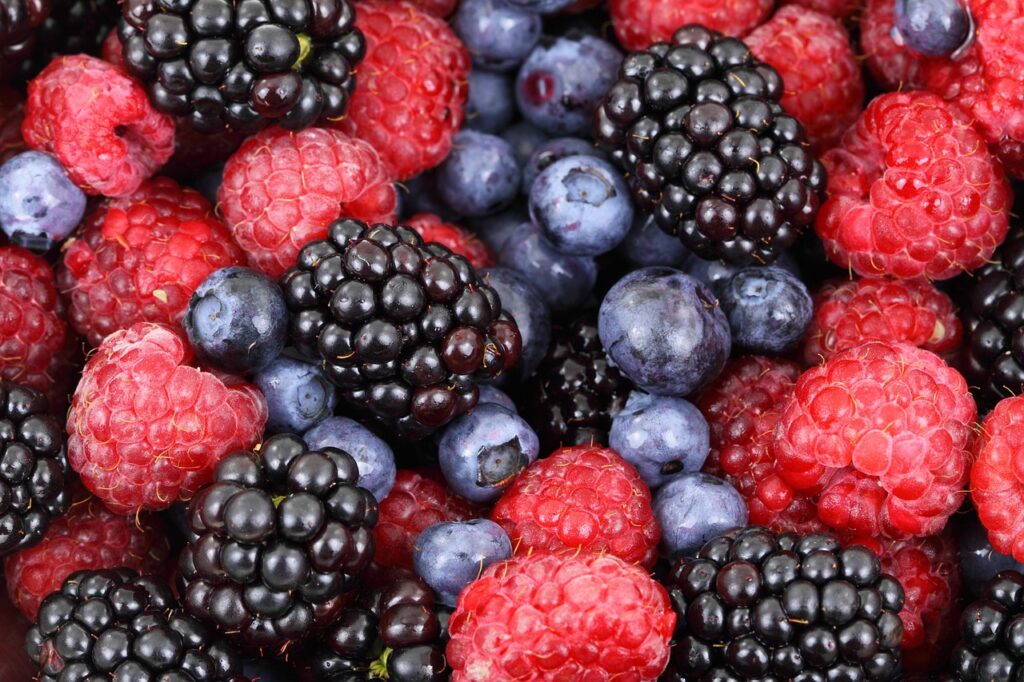 Berries are a nutritional powerhouse for diabetics seeking low-carb sweet options. Blueberries, strawberries, raspberries, and blackberries are not only low in carbohydrates but also packed with vitamins, minerals, and antioxidants.
Their natural sweetness provides a delightful treat without causing drastic spikes in blood sugar levels.
Low-Carb Sweets: 5. Keto-Friendly Cakes
The ketogenic (keto) diet has gained everyone's attention in the diabetes community. A keto-friendly diet helps manage blood sugar levels.
You can opt for keto-friendly cakes when you want to savour something sweet and tasty. These cakes replace traditional flour with almond or coconut flour, and sugar with natural sweeteners. There are also many vegan options available in the keto diet. You must know about how to track your weight-loss.
It's A Wrap!
In the journey of managing diabetes, you don't need to sacrifice the sweetness of life. You can easily opt for low-carb sweets that help you manage your blood sugar levels. These sweets open a world of possibilities for diabetic people.
If you crave sweet treats, don't be scared to indulge in these options. But don't forget that it is important to control the portion of sweets you consume. Even though they have fewer carbs, consuming large quantities can still impact blood sugar levels. Moderation is the key to maintaining stability.
And above all, before you consider any of these treats as your option, study their impact on your health. Keeping yourself up to date with the potential benefits and side effects of any food will allow you to be healthy.