Hold on!!! We have a one-stop solution for your health. Today we will discuss how green tea helps you get a flat tummy. Studies reveal that consumption of green tea can boost metabolism by up to 4 percent. I know it tastes bad but this tea is really very much helpful and if you are suffering from a fatty tummy and want to get a flat tummy fast then my suggestion is that you must consume this tea to get a flat tummy faster. Few studies suggest 2-3 cups daily help you get a flatter tummy. It helps to speed up the rate at which your body burns calories. Next, we will read on can we drink it before a workout or pre-workout drink.
How to beat bloating with green tea read more
Can I Consume Green Tea Before Workout?
Drinking this tea before a workout may increase fat burning and reduce muscle damage. Drink this tea before pre-workout to see rapid results. This tea contains caffeine and L-theanine, which is especially beneficial in the morning and also the same way if you can consume this on pre-workout it is helpful too. My suggestion is if you are serious to reduce your bulky tummy faster then just hold your nose tight with your fingers and finish drinking it as this is gonna help you so much to reduce the belly fat.
I have a special article on belly fat transformation to six pack abs read this
Can I Drink This Tea As a Post-Workout Drink?
Green tea contains powerful antioxidants that help metabolize fat that would otherwise cause inflammation and muscle soreness. Do you want to be a gym shark? Green tea is a perfect post-workout drink whose benefits extend well beyond the gym that we will discuss on the next topic. This tea has been shown to help treat a number of chronic inflammatory conditions from cancer to Alzheimer's and heart disease. When your metabolic rate is improved it automatically aids in overall weight reduction, which also shows in your abdominal area. So I would not recommend more than 2-3 cups a day daily, however, at the end of the day, it is still tea. And drinking too much tea dehydrates you.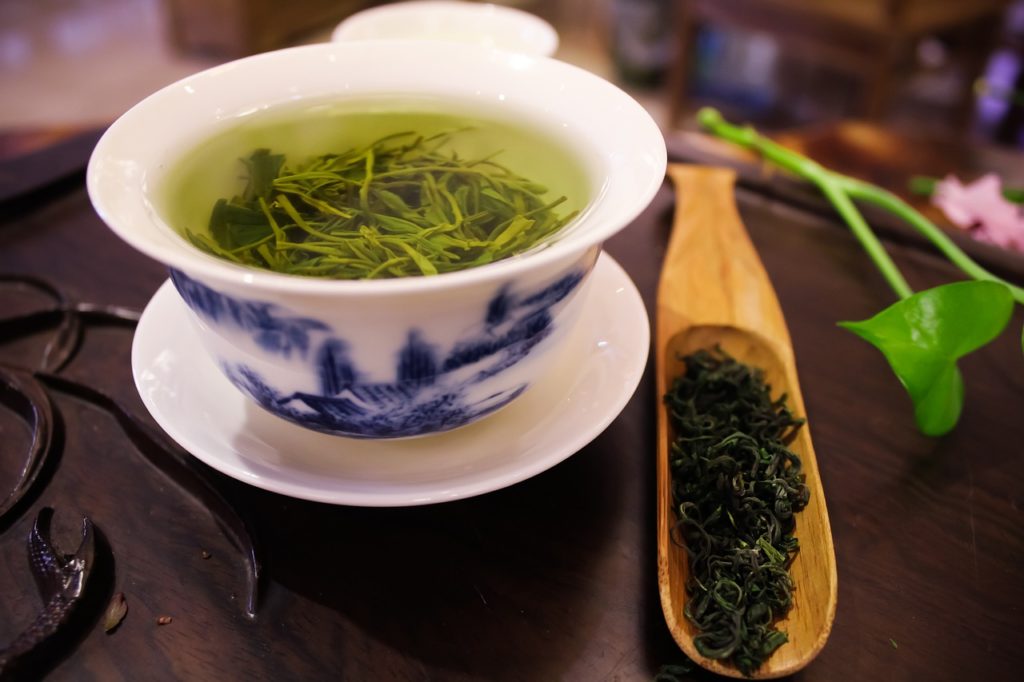 10 Useful Benefits of Drinking Green Tea –
The useful benefits of drinking this tea are –
Increase the rate of fat burning.
May prevent type 2 diabetes.
Reduce bad breath.
Lowering the risk of heart disease.
This tea protects against cancer.
Improves your brain function.
This tea lowers cholesterol.
Reduces stroke risk.
Helps in faster weight loss.
Prevents inflammatory skin diseases.
Does Green Tea Help You In Muscle Building?
As before we discussed the 10 useful benefits of drinking this tea. On this topic we will discuss about does this tea help you in muscle building? Green tea has been known for decades to help lose weight and promote metabolism. But the latest research shows this tea helps to stimulate the production of growth hormones. This increases the HGH (Human Growth Hormone), which speeds up muscle building and promotes muscle mass. As bodybuilders are at tremendous stress due to hardcore and intense workouts, green tea works as an excellent anti-oxidant which helps to preserve muscle cell and as well as help to regenerate the tear muscle cells.
Does Green Tea Help You Increase Testosterone?
Please read this topic very carefully as "testosterone" is now the most trending topic all over the world. And the persons who are related to bodybuilding know the importance of how testosterone plays an important role in bodybuilding. "Green tea alone may also boost performance by raising blood levels of natural testosterone". Athletes who cheat by doping themselves with testosterone may be able to mask their actions by drinking green tea. Large quantities might even provide a legal performance boost by raising levels of testosterone in the blood. By this, we came to the end of this article. Keep an eye on us. We post regular health & fitness topics. We will try to cover more important topics like this.