Congratulations! You've just taken the first step towards improving your brain and heart health. Whether you already know about the astounding benefits of having Triplex Fish Oil, or you're a fellow explorer eager to know about the best fish oil in the market; I welcome you to this article.
Most of the people I've met don't know what a fish oil supplement is or what are its benefits. The best reply I've heard lately about "What is Fish Oil?", was a client of mine, telling me it was a supplement good for health.
Well, fish oil is definitely fantastic for health, and in this article, I'll describe lucidly why it is the best thing you can do for your heart!
You can also subscribe to my YouTube Channel, it will help me bring better content to you:
Click to go to My Channel: The Desi Bong.
What is Fish Oil? Why do you Need This? What is Omega 3?
Simply speaking, fish oil is nothing but the oil extracted from fish tissues. This is normally extracted from oily fishes, such as Tuna, Herring, Anchovies, Salmon, and Sardines.
Now, Why do we need Fish Oil?
Whenever we talk about fish oil supplementation, we talk about Omega 3. It is one of the most important nutrient for your heart and brain.
We all know, that brain and heart are the two most powerful organs of our body; and they must be kept healthy. There's no replacement if you damage these two organs.
Hence, we need fish oil to keep these two organs healthy.
Why This is the Best Supplement You Should Buy Today?
We already know why Fish Oil is important. It is the source of Omega-3 that is quintessential for your brain and heart health. Now let's see how much Omega-3 are we consuming everyday?
In India, nearly 40% of the population is vegetarian. And even the non-vegan people scarcely eat fish nowadays. Naturally, we are not getting the essential amount of Omega-3 needed by our body.
Here comes Triplex Fish Oil to the rescue! It is possibly the best Fish Oil supplement you can put your hands on. Manufactured by Divine Nutrition, Triplex Fish Oil is more than enough to take care of your Omega-3 needs.
It is also available in an affordable price range, Buy Triplex Fish Oil (Divine Nutrition by Sahil Khan). If you ask me, I think investing a few bucks on health is a lot cheaper than bleeding thousands on the cure.
Read further to know why Triplex is the best brand for you!
Which Factors Determine a Good Fish Oil Supplement?
Let us discuss the factors that determine a good quality Fish Oil Supplement. I will try to explain lucidly keeping difficult scientific terms at bay, so enjoy!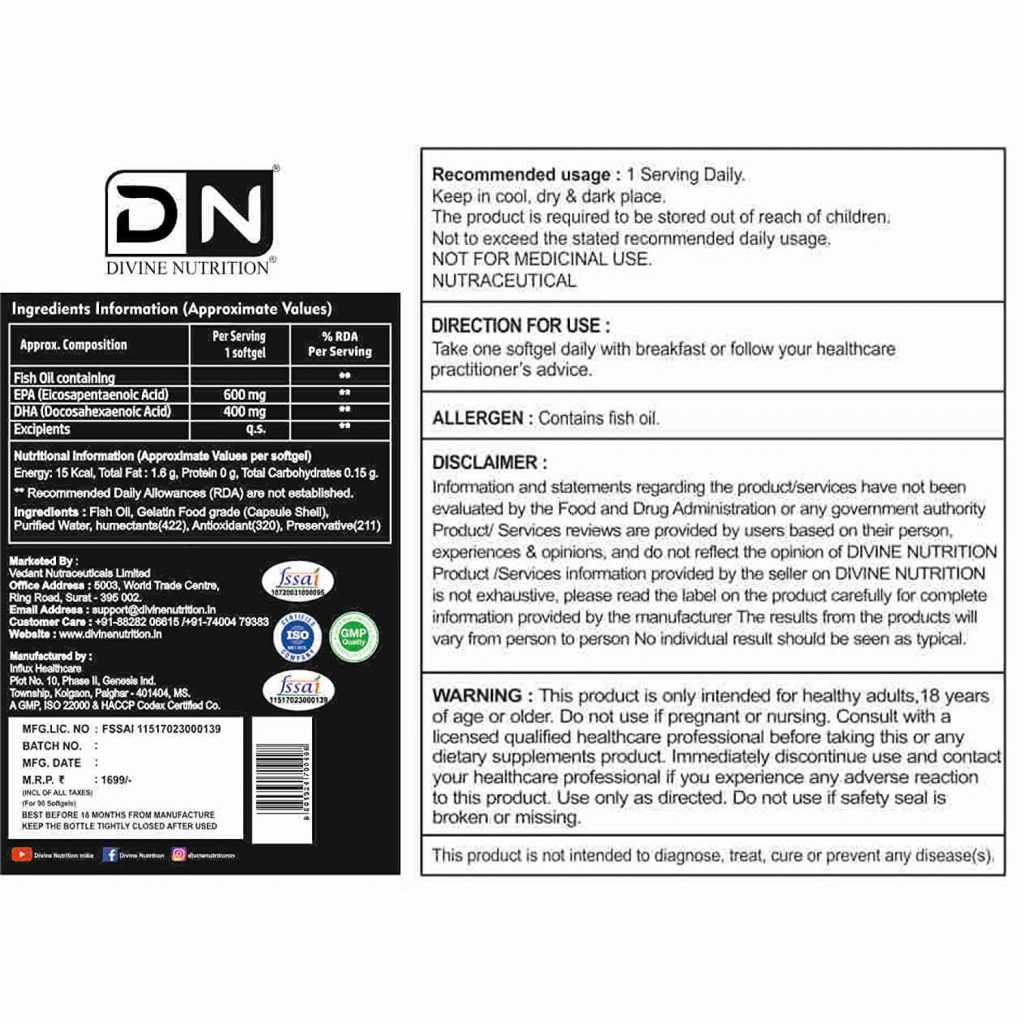 We know Omega-3 is good, but how much do we need to supplement it? The daily recommendation of Omega-3 is 500mg. So we need to make sure whether your Fish Oil Supplement gives you at least 500mg of Omega-3.
When you buy a fish oil, look at its EPA/DHA is 500mg.
In Triplex Fish Oil,
EPA (Ecosa Pentanoic Acid) – 600mg DHA (Decosa Hexanoic Acid) – 400mg
The recommended amount of EPA/DHA your fish oil should have must always be more than 300mg. Otherwise, you would be under dosed.
Triplex Fish Oil exceeds expectations in both cases.
What to do if you are Vegetarian?
If you are a vegan, you might want an alternative to fish oil.
Let me tell you, flaxseed oils work equally fine. I will try to publish an article on it shortly, meanwhile, you can read 6 benefits of Flaxseed Oil.
Although, both flax oil and fish oil provide Omega-3 fatty acids; only fish oil contains Omega-3s EPA/DHA.
So, fish oil is always better.
That's it Folks! Now you know the benefits of this supplement
That was it guys. I hope I could clear all your doubts about Fish Oil. It can be a valuable investment for your health, but ultimately the choice is yours.
You can also read the astounding benefits of Alkaline Water.
And please subscribe my channel, The Desi Bong!