Every bottle of aqua hunk water is put through a rigorous multistage purification process which includes micro-filtration and ozonization. It also has added minerals and why it is unique today I'll discuss it in this article. Unlike other types of water, aqua hunk water is bottled at its source and contains natural minerals and other trace elements that I've mentioned below. I must say the taste of aqua hunk water was amazing and not only that after drinking this water post-workout I felt hydrated. It provides me different energy throughout my workout and all day long it keeps me hydrated and energetic.
Is Drinking Mineral Water Essential in Day to Day Life?
Yes, drinking water is very much essential for everyone in day to day life. Water not only keeps your body hydrated but also has many other health benefits. Now you might be thinking why should I drink mineral water instead of normal water? "Mineral water," the name says it all, mineral water contains minerals that benefit your body all way. Mineral water contains substances like magnesium, calcium, sodium, zinc, chloride, sulfate, and hydrogen carbonate. According to recent research, they're actually a pretty effective way to boost your mineral intake. And I've mentioned in my previous articles that for bodybuilding sleep, plenty of water, nutritious foods, and workout is required. To keep yourself fit & healthy you have to drink plenty of water. To know the exact amount of water intake on daily basis please read the next topic.
How Much Aqua Hunk Water to Drink Daily?
This is a vital topic, read it carefully. In this topic, I will discuss how much liters of water to drink daily. And yes drinking water quantity may vary seasonally and certain factors that vary from person to person. For healthy persons:
About 3.5 to 4 liters of water a day for men
About 2.5 to 3 liters of water a day for women
People with heart disease should ideally drink 32 to 64 ounces (about 1 to 2 liters) of water daily unless their doctor has told them to limit fluids. If you are suffering from any kind of health disease then once consult with your doctor to know exactly how much amount of water you can drink daily.
15 Surprising Benefits of Aqua Hunk Water
Your body depends on water to survive. Every cell, tissue, and organ in your body needs water to work properly. For example, water:
Gets rid of wastes through urination, perspiration, and bowel movements
Drinking the proper amount of water can prevent you from kidney stones
May promote bone health
May help lower blood pressure
Keeps your body temperature normal
May benefit heart health
Can help with constipation
Lubricates the joints
Protects sensitive tissues
Proper brain function & connectivity
Promote weight loss
Helps in detoxification
Maintain regularity in digestion
Healthy muscles & recovery
Youthful skin
What is the Price of Aqua Hunk Water?
You might be wondering how much does one bottle of hunk water costs? As per my knowledge Hunk brand launches the best products at very moderate prices, so that everyone can afford it. And as I've discussed in the above topic, like that each Hunk products are loaded with lots of health benefits. The first 'Aqua hunk' Mineral water was sold by purifying water using R.O. process micron-filtered, and it was U.V. treated and Ozonized.
If you are a retailer or desire to buy bulk quantity packaged drinking water of aqua hunk water for any kind of occasion like a marriage ceremony or birthday party, etc. It will cost you 1-liter hunk aqua mineral water at Rs 9.83/bottle and the minimum order quantity is 6000 bottles. And if you need in less quantity then the MRP of a 1-liter bottle is Rs 20, 500ml bottle is Rs 15, and a 250ml bottle is Rs 10. This is a must try to enjoy the sweet taste of Aqua Hunk.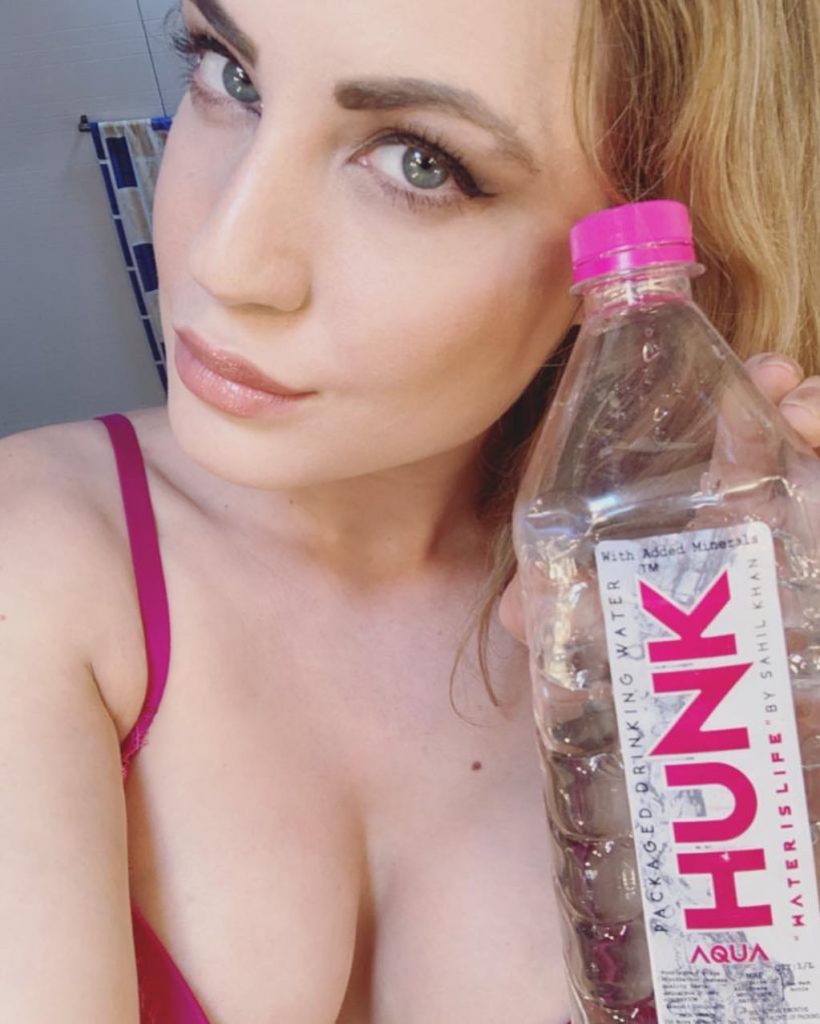 Can Aqua Hunk Water Hydrate you?
First of all let's find out how you know that you are hydrated.
Your fluid intake is probably adequate if:
You rarely feel thirsty.
Your urine is colorless or light yellow.
And if you feel thirsty or too much thirsty then you are dehydrated, you might be drinking very less amount of water. If your urine color is yellow that is also a sign of getting dehydrated. To again gain back hydration you have to drink more and more water.
If you suffering from heart, kidney, or any other diseases then a doctor or registered dietitian can help you determine the amount of water that's right for you every day.
To prevent dehydration and make sure your body has the fluids it needs, make water your beverage of choice. It's also a good idea to:
Drink a glass of water or other calorie-free or low-calorie beverage with each meal and between each meal.
Water before, during, and after exercise.
Drink water if you're feeling hungry, thirst is often confused with hunger.
It was all from my side, be sure to read on Triplex Fish Oil, India's 1st Alkaline Fitness Water, & Divine Nutrition Immuno Essentials. and especially check out how the Biggest Gym of India came into being, click below: