Divine Nutrition Immuno Essentials, a daily vital nutrient that can change your life. Welcome back friends, today I'm back with another magical daily essential that will benefit you all way, and ultimately you will transform into a successful person. At last, I've revealed all its benefits but to thoroughly understand you have to read line by line. If you are a bodybuilder, athlete, or just an ordinary person, to keep yourself healthy you have to take vital nutrients, multivitamins, and essential minerals. This protects your heart health, reduces stress, and most importantly boosts immunity. Immunity booster is now a matter of concern during the spread of coronavirus.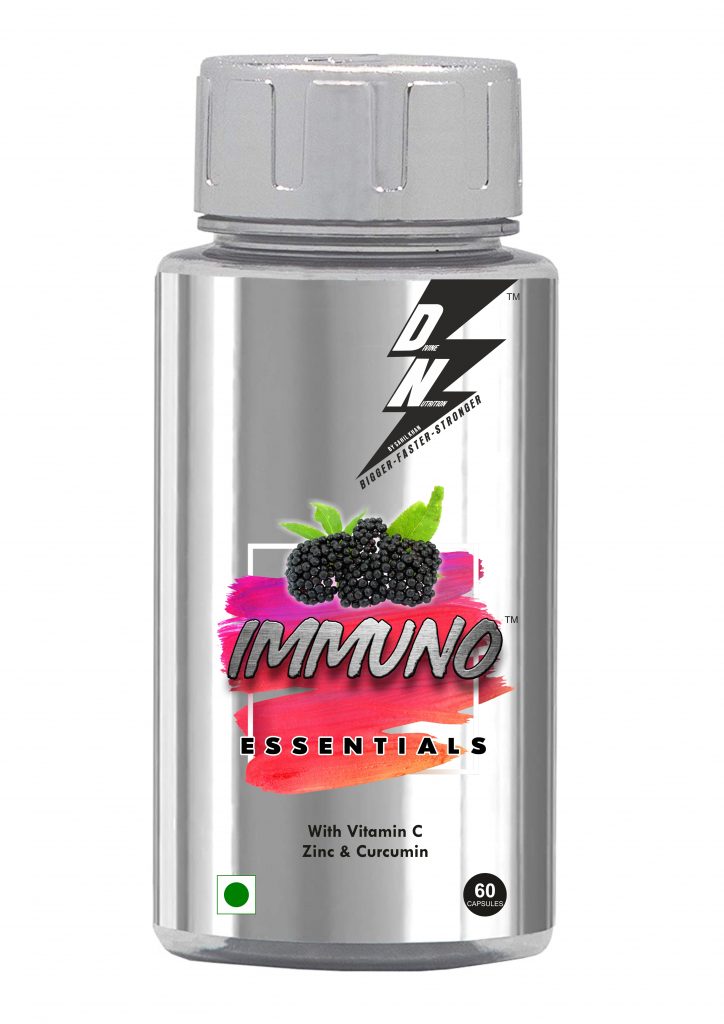 Along with Whey Proteins Why Vital Nutrients are also Essential?
This is a very important topic for those who think bodybuilding is all about diet, water, sleep, workout, and whey protein. I must say you have a wrong thinking, yes obviously bodybuilding is about diet, water, sleep, workout, whey protein but along with that, you need daily essentials like triplex fish oil and other vital nutrients (vitamins & minerals). This is what finally makes you an overall champion a successful bodybuilder. To know the extraordinary health benefits of using Immuno essentials you must read till the last line. The inside knowledge of the fitness industry, supplements, and how to workout are only shared on our website exclusively. Spread our website with your friends and families by using the sharing buttons below.
You can directly buy Immuno Essentials or Divine Nutrition from Buyceps.
How Vitamins and Minerals in Divine Nutrition Immuno Essentials Plays an Important Role in your Body?
If you are finding multivitamins, essential minerals, then you are in the correct place. I have brought a single source from which your body will get not only multivitamins, essential minerals but also benefited from other health benefits. This contains vitamins like vitamin C, vitamin B6, vitamin K2-7, vitamin D3, vitamin B12. Contains minerals like zinc sulfate, chromium picolinate, and most amazingly it contains elderberry extracts again which has its own health benefits differently. Vitamins and minerals are considered essential nutrients because they perform hundreds of roles in the body. They bolster your immune system, heal up wounds, and shore up bones. They also convert food into energy and repair cellular damage. This is how vitamins and minerals in Immuno Essentials plays an important role in your body.
What is the Nutritional fact of Divine Nutrition Immuno Essentials?
This product is made with unique nutrition that has many health benefits, and here I will discuss nutritional facts with which this product is made.
Ingredients Information (Approximate Value) Serving Size: 2 Capsules
| Ingredients | (Each Capsules Contains) | %RDA |
| --- | --- | --- |
| Nigella Sativa | 300mg | ** |
| Allium Sativum (Garlic Extract) | 200mg | ** |
| Curcumin (Curcuminoids 95%) | 100mg | ** |
| Elderberry Extract | 80mg | ** |
| Vitamin C (Ascorbic Acid) | 20mg | 50% |
| Zinc Sulfate | 15mg | 50.6% |
| Piperine 95% | 4mg | ** |
| Vitamin B6 | 0.8mg | 40% |
| Chromium Picolinate | 100mcg | 24.86% |
| Vitamin K2-7 | 27mg | 49.09% |
| Vitamin D3 (Veg Source) | 5mcg | 50% |
| Vitamin B12 | 0.5mcg | 50% |
| Excipents | q.s | |
**Recommended Daily Allowances (RDA) not established.
* RDA of nutrients as per guidelines of Indian Council of Medical Research (ICMR).
mg: milligram
mcg: microgram
q.s: Quantum satis or quantity specification
Nutrition Information (Approximate values)
How Elderberry Extracts in Divine Nutrition Immuno Essentials Boosts your Immune System?
Elderberry extracts are very much essential during the COVID-19 pandemic. Boosts the immune system along with that elderberry contains an antiviral agent called "antivirin" which helps prevent viruses from invading our cells. Elderberry especially works well when you are suffering from cold and flu symptoms. You shall feel lucky that along with providing vitamins and minerals this also has elderberry extracts that boost your immune system. This is a must take during coronavirus if you are conscious about your health. Elderberries are packed with antioxidants and vitamins that help in boosting immunity.
To know more about how to start your weight loss journey visit healthandfitnesskala.com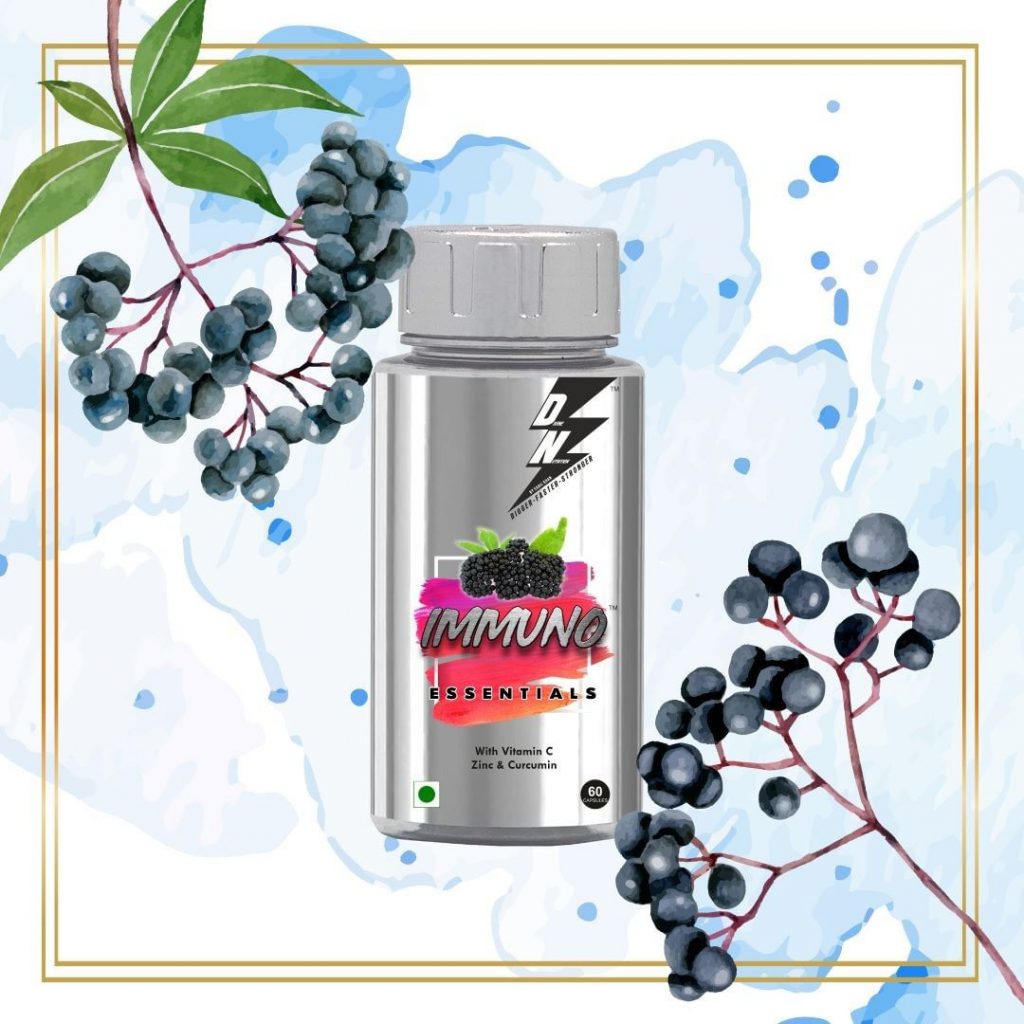 9 Extraordinary Health Benefits of Using Divine Nutrition Immuno Essentials?
Here I've discussed all the health benefits of using Immuno Essentials, this information is exclusively available only on our website gofitnesspro.in. And I share this inside information only for our valuable readers.
Reduces Stress – Consumption of elderberry extracts may lessen stress. The person suffering from depression, anxiety, stress is extremely helpful by this.
Protects Heart Health – Elderberry extracts also protect your heart health.
Immunity Booster – Vitamin B12, Vitamin C, and elderberry extract always proven to be an immunity booster. During the COVID-19 pandemic, you can also consume this to boost your immune strength.
Prevents Cold & Flu – Some experts recommend elderberry extracts to help prevent and ease cold and flu symptoms.
Prevents Heart Diseases – Curcumin has many scientifically proven health benefits. And this also has the potential to prevent heart disease.
Prevents Alzheimer's Disease – curcumin is may effective in Alzheimer's disease.
Prevent Cancer – some researches have found that curcumin may prevent you from cancer.
Anti-inflammatory and Anti-oxidant – It's a potent anti-inflammatory and anti-oxidant and may also help improve symptoms of depression and arthritis.
Contains Vitamins and Essential Minerals – Immuno Essentials contains vitamin C, vitamin B6, vitamin K2-7, vitamin D3, vitamin B12. Along with that it also contains curcumin, elderberry extracts, zinc sulfate, piperin, chromium picolinate.
As you have read all the benefits of this, you can definitely understand how excellent this product works in your body. There are so many extraordinary benefits of using this, consumption of this product will definitely benefit you all way. Thanks, readers for your valuable time hope you enjoyed the session if you face any kind of difficulties in understanding then directly ask me in the comment section below. And if you like reading this article then share it to your friends and families.
You can buy this amazing Immuno Essentials from buyceps.