Finally, here I am with how to do lats workout without equipment at home. V-shaped lats is the dream physique for all men. And women's too work for perfect lats. Today I'll especially discuss on how to build lats, the workouts that get you perfect v-shape, and many more. First of all, I would like to say you all lats workout is my favorite one and I just enjoy working it out. During lockdown, your gym workout may have paused due to as gym closed. Don't worry, I'll explain to you how to work on lats at home without equipment. You might be thinking of getting in v-shape is tough, but no, it is your wrong thought. Few workouts are there, that I will discuss here today will definitely build you v-shaped lats.
11 Reasons Why Lats not Getting Enough Pumped Up?
Yes, sometimes you do hardcore workout still lats doesn't get pumped up. You might be facing one of the issues:
low testosterone levels, you can use ashwagandha. Ayurvedic test booster.
Not getting enough sleep, in 24 hours you have to sleep for 8 to 9 hours.
Not having sufficient foods, that contain carbs, proteins, vitamins, and essential minerals
You might not be drinking sufficient water, you have to drink 5 to 6 liters of water in a single day.
Doing workout in the wrong postures, this can affect your pump majorly.
Burning over calories. Try to complete your whole workout in 45 to 60 minutes.
Not regular in the gym, irregularity in a workout can be the main reason you are not getting enough pump.
For PRO bodybuilders, expert-level bodybuilders there will be a time when you will feel low or feel like not getting enough pump then you have to upgrade your workouts like you have to add supersets, drop sets, increase the number of reps each set
You might be taking more rest during a workout, don't do so, be active during a workout.
Not enough motivated during a workout, listen to workout songs that will help you do extra reps in each set.
Try to flex your lats after every 3 to 4 sets of workouts.
How to do Lats Workout at Home?
To do lats workout at home, it can be simply done freehand. I will explain to you about the freehand lats workout, and if possible you can buy resistance bands. Mostly all the workout gets covered with resistance bands as previously I have explained how to do chest workout, shoulder workout, deltoids workout, leg workout, abs workout, biceps, and triceps workout. A perfect v-shape might look hard but it's easy developing lats, just you need to be very disciplined during the workout. And change your eating habits, try to eat healthy foods like green leafy veggies, oats, chicken breast, corn soup, etc. Drink plenty of water, sleep for 8 to 9 hours, and workout like a beast. That's all, you are bound to achieve your goal.
6 Amazing Lats Workout That Get you V-Shaped?
Intense lats workout that will give you a defining lats. Before starting this workout do warm-up exercises for 15 minutes. Here I will reveal that 6 workouts that get you perfect v-shaped lats:
Pull-ups – 3 sets with 10 reps each.
Bent-Over Rowing with Barbells/Resistance Bands – 3 sets with 12 reps each.
Single Arm Rowing with Dumbbells/Resistance Bands – 3 sets in a single hand with 10 reps each, same way repeat in another hand.
Seated Rowing with Resistance Bands – 4 sets with 10 reps each.
Wide Grip Pull-ups – 5 sets with 12 reps each.
Chain Pull-down – 5 sets with 10 reps each.
How to do Lats Workout with Dumbbells?
To get extremely pumped up lats you shall need dumbbells. As I've mentioned lats workout with dumbbells before "Single-arm rowing with dumbbells/resistance bands". This is my favorite workout on lats day because exactly this workout and wide-grip pull-ups will make you feel more harder pump of lats. Below I've attached a picture, how Andrei Deiu is doing single-arm dumbbell rowing. Just try to look at the correct pose, look forward while you hold the dumbbell and row. While you hold the dumbbell on your left hand, your right leg must be above the bench as shown in the picture below. After you complete dumbbell rowing on your left hand, the same way do it on your right hand.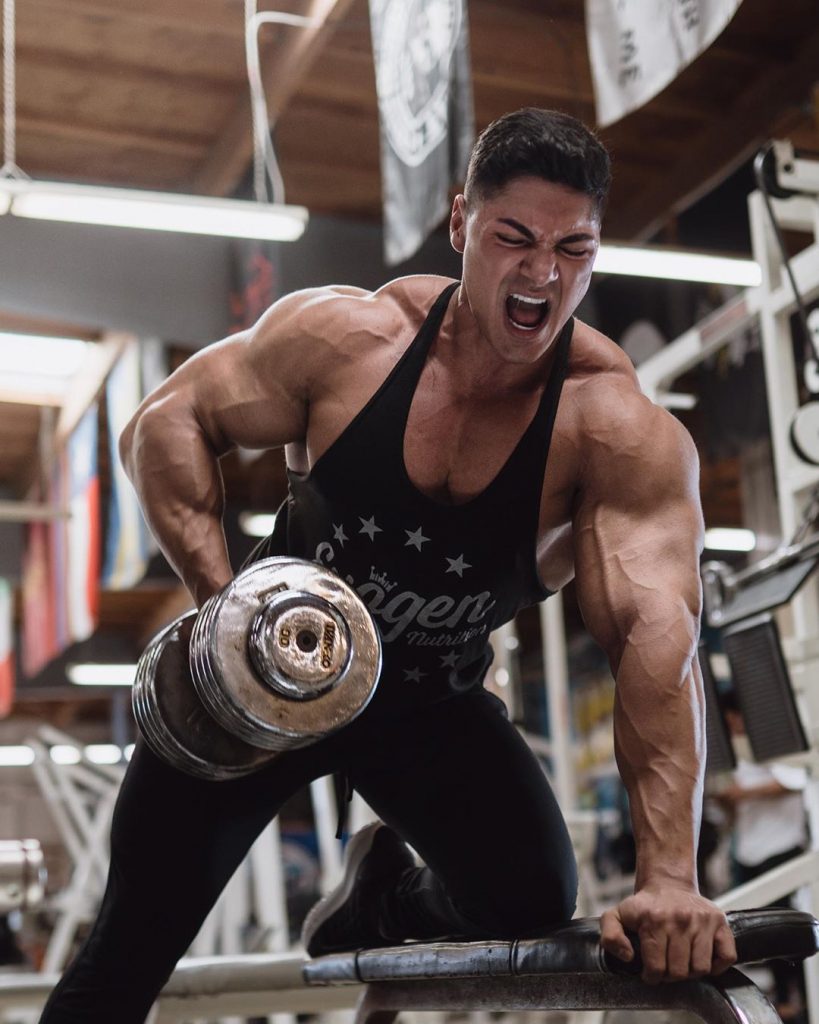 5 Foods That you Must Have in Lats Workout Day
Along with hardcore workout, you need proper nutritious foods that will help your muscles grow faster. I'm here with 5 foods that you must have are:
Corn Soup – a bowl of corn soup, you can also add tomatoes to change the taste.
Chicken Breast – I suggest chicken breast, in every meal because this helps a lot while you are in a gaining phase.
Fresh Green Leafy Vegetables – you must add asparagus beans, broccoli, capsicum, etc.
Tuna/Salmon – this is rich in vitamins and minerals.
Fruit Juices – you can have various fruit juice, like mango juice, pineapple juice, orange juice, pomegranate juice, grapes juice, etc.
Thanks for joining us, I'll come back with another pumped up session.